Recurring bumps and
boils that hurt could be HS.
The bumps, boils, and sores (abscesses) of HS often come back more than once in the same area, or areas where skin meets skin, in a 6-month period. These outbreaks can flare and rupture, leaking blood and pus that may have an odor. Over time, they may connect to each other under the skin, forming deep and painful tunnels that can lead to extensive scarring.
HS is sometimes mistaken for an infection, often looking like a deep pimple or ingrown hair that can show up on different areas of the body.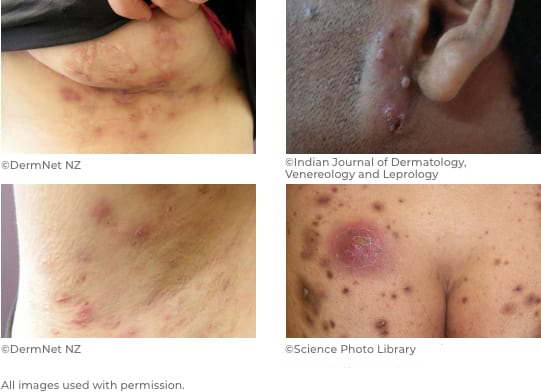 Where you might find HS:
Armpits
Groin area
Inner thighs
Buttocks
Under the breasts
Back of the neck
Ears
Bumps and sores can appear on different parts of the body, but most frequently occur where skin rubs against skin or against clothing.
Answer 10 simple questions to help you start the
conversation with a dermatologist.
TAKE THE QUIZ
Understand how HS may progress over time.
After someone sees symptoms for the first time (usually after puberty), they may keep seeing them on and off—for years. HS may be classified into 3 stages, based on how severe the signs and symptoms are. Even mild or moderate HS symptoms can have a negative impact on a person's physical and emotional health, and affect their quality of life.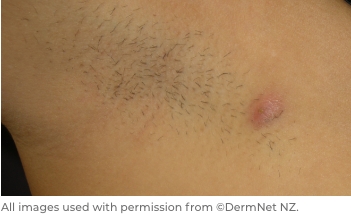 Mild
Sometimes called Hurley stage I. Typically shows up as one or multiple bumps (inflammatory nodules) and abscesses with no scarring or tunnel (sinus tract) formation.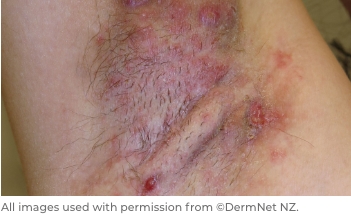 Moderate
Sometimes called Hurley stage II. Typically shows up as multiple abscesses, along with limited tunnels and/or scarring.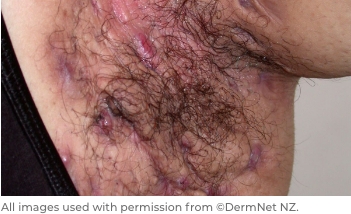 Severe
Sometimes called Hurley stage III. Typically shows up as multiple or extensive interconnected tunnels, abscesses, and scarring.
"I had big plans. Unfortunately, my HS had different plans for me. HS didn't allow me to be comfortable sitting, even walking."
Donna is living with HS and was compensated for her time.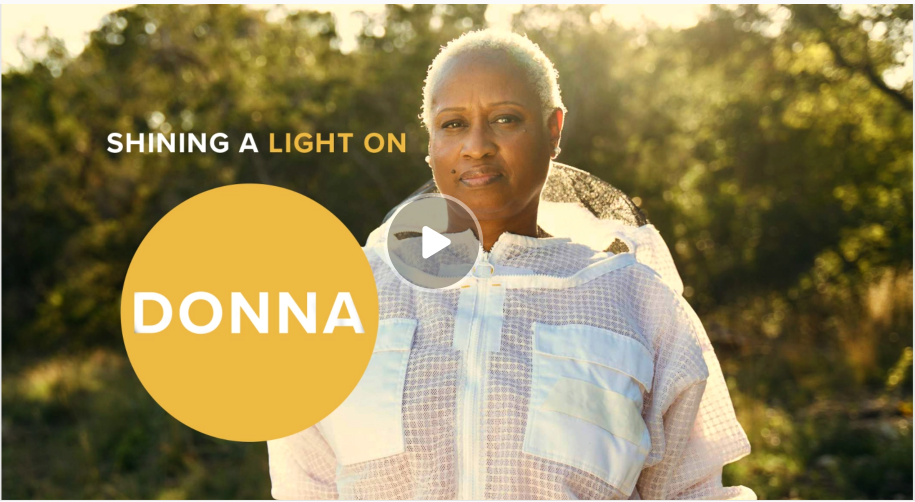 WHAT CAUSES HS?
Now that you understand a little more about HS signs and symptoms, find
out who may be at risk for the condition.
WHO IS AT RISK?